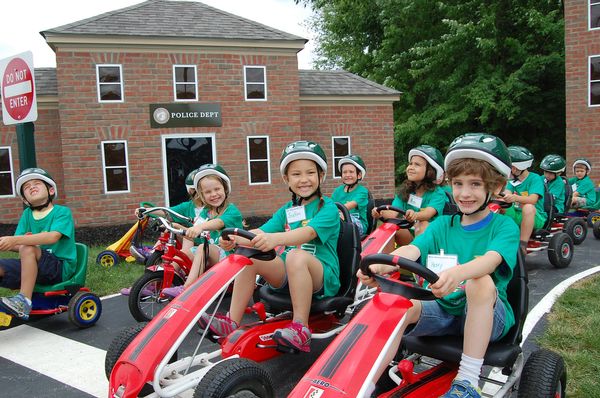 New Albany Safety Town and the Adventureland site is made possible through support of the City of New Albany and through the generous support of many companies and individuals who believe in the importance of teaching life-long safety lessons.
We hope you will join us in thanking our sponsors for making New Albany Safety Town possible and hope that you will support their businesses and/or services.
We believe camp should be available and affordable to all families in the greater Columbus area. The eight (8) day camp is a high quality camp taught by State Certified Teachers and provides campers with a bike helmet, bike light and camp shirt. However, registration fees only cover 38% of the total cost for each child.
Our mission of "Teaching our Children to be Safe" can only be accomplished with your help. We invite you to join us in our efforts by donating or being a camp/site sponsor. There is no donation too small and there are many levels of sponsorship to suit your giving levels.
$1,500 Bike Light Sponsor
Company Name / Logo on all bike lights
Sponsorship advertised on website, social media and all print material
$2,000 Shirt Sponsor
Company Name / Logo on all camp shirts
Sponsorship advertised on website, social media and all print material
$2,500 Helmet Sponsor
Company Name / Logo on all bike helmets
Sponsorship advertised on website, social media and all print material
$3,000 Building Sponsor
Name on Market Street building with your company logo
Three (3) year Exclusive marketing rights via email or direct marketing
Company volunteer opportunities
Sponsorship advertised on website, social media and all print material
$5,000 Building Sponsor - SOLD OUT
Name on Large Market Street building with your company logo
Five (5) year Exclusive marketing rights via email or direct marketing
Company volunteer opportunities
Sponsorship advertised on website, social media and all print material